Anthology
I guess it's about time I announced it here.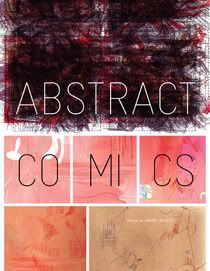 Some of my work (about 6 pieces) has been featured in Abstract Comics: The Anthology, published by Fantagraphics and meticulously edited by Andrei Molotiu. It's been released and is available for purchase at most comic book stores. Amazon has it for preorder (hopefully they'll start shipping soon too). You can see a preview on the Fantagraphics site.
The book itself is absolutely gorgeous. It will make your coffee table the coolest coffee table around. As happy as I've been with lulu.com for my self-publishing, the Anthology is a reminder of what a serious, professional printer can do, especially with a designer like Jacob Covey working on it. It's a total treat to see my work packaged up in such a snazzy bundle.
I also can't begin to describe how cool it is to me to see my work published in the same book and discussed in the same sentence as the other contributors, like R. Crumb, Henrik Rehr, J.R. Williams, Gary Panter, and Patrick McDonnell (Moebius was also originally to be included in the Anthology but that never quite came to pass).
To go along with the Anthology, Andrei has set up an Abstract Comics Blog where most of the contributors have been posting their more recent work, and there will be a show, "Silent Pictures", at the James Gallery in NYC from September 1st to October 11th. It's a joint show featuring Art Spiegelman's collection of 1930s German "wordless comics" plus (nearly) all of the pieces featured in the Anthology.
If you want to see more of my abstract comics beyond what's in the Anthology, see my gallery on myopica.org. I should also point out that my self-published books are now all available on amazon.